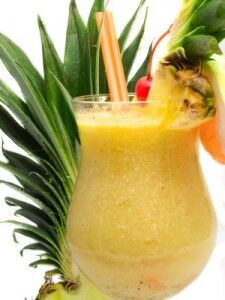 Avoiding alcohol is a great thing to do as soon as you start thinking about getting pregnant. In Chinese Medicine, consuming alcoholic beverages is believed to dull the functions of the Liver like storing the blood and directing it to the uterus, governing the release of ovulatory hormones, and regulating the menstrual cycle. Of course the need to avoid alcohol is especially important during pregnancy as it can impact your baby's brain development and increase the risk of miscarriage.
And yet, whenever we cut out something from our diet it is most important to replace it with something equally delicious. The virgin pina colada is a great drink to enjoy on a warm summer day. We prefer to make our drinks room temperature, which is more supportive to our digestion (ice cold drinks can put out our digestive fire).
The recipe is simple and delicious. Pineapple is loaded with calcium, potassium, fiber, and vitamin C. Our piña colada contains bromelain, an enzyme known to support implantation.
1 14 oz can of fresh coconut milk
4 ½ cups fresh or frozen pineapple
Combine pineapple in a blender with coconut milk. Serves 2.
Resource: Cooking For Fertility: Foods to Nourish Your Fertile Soul