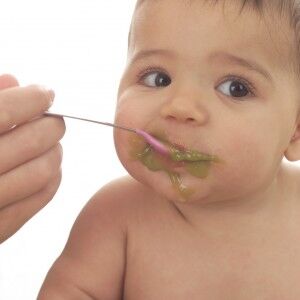 While there is some different thoughts about starting babies on solid foods ranging from beginning at four months to waiting until one year, the average age seems to be six months. When my baby reached six months I gathered some of the best books I could find including: Super Baby Food, Into the Mouth of Babes, The Baby and Toddler Cookbook. And of course I am lucky to have a pediatrician who is most interested in nutrition so I love to talk with him about how to make the most of solid foods for babies.
A couple hints I came across that my little one was ready to eat included: being able to sit with support and lean forward for more or back off when he was finished, he no longer exhibited the reflux response when being introduced to a spoon, he was bringing things directly to his mouth (in fact everything was going towards his mouth), he was showing great interest in what we were eating (with an especial fondness to green vegetables which made me especially happy!). Some also recommend that the baby be at least 4 months, twice their birth weight and at least 13-15 pounds.
The first foods were somewhat of a debate. I wanted to do avocado. My mom suggested that I should choose something sweet like sweet potato or banana that the baby would actually like. And the nurse said rice cereal to help him sleep. Armed with my baby cook and determined to encourage his love of green foods I settled on avocado. Introducing each one of the other suggestions every 3 days to ensure no allergic reactions.
We developed a ritual that works for us inspired by one of my favorite books: The Family Dinner. I bring little guy down and put him in his playpen while I make his breakfast. Then we go out to the porch, I put him in his high chair, light a candle and bless his food. Then we proceed to enjoy the meal. One thing I didn't realize early on is that it's important to Never force feed a baby. Not that I was shoving food into his mouth but it was more a case of he'd be laughing and I would sneak that extra bite of avocado into his mouth. Not any more. When he is done he lets me know by closing his mouth and turning away. If food lingers in his mouth for too long I realize that the meal is stressful for him and do my best to reduce any unnecessary stimulation.