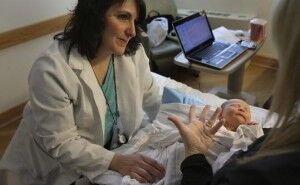 Many lactation consultants are happy to meet with you prior to your baby's birth to help prevent problems. These prenatal meetings are particularly helpful under the following circumstances.
You were unable to breastfeed your first baby. Perhaps you felt you didn't have enough milk, or breastfeeding was painful.
You breastfed your first baby, but it seemed difficult for you or your baby.
You prefer a private, individualized breastfeeding class.
You have had surgery on your breasts or chest—including augmentation or reduction.
Your breasts are very different from each other in size and/or shape. Breasts are never absolutely identical, but marked assymetry can indicate an underlying problem.
You are expecting a baby who may have special challenges.
You are expecting twins or more!
You have a medical situation or injury that may require creativity when positioning yourself and baby for breastfeeding.
You were unable to get pregnant naturally—needing help with fertility.
You are planning to breastfeed an adopted baby.
A prenatal lactation visit can help you feel more confident when the baby comes. If you do experience difficulty, you'll know just the person to call. When you're feeling exhausted and emotional after birthing your baby, it's nice to know you can talk to someone who you're comfortable with and who already knows your situation.
Related article: What is a Lactation Consultant?
Written by Renee Beebe, M.Ed., IBCLC. Renee is a lactation consultant in private practice in Seattle, Washington. She is available for home/hospital visits and phone consultations. Renee can be reached at www.second9months.com