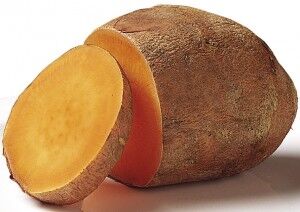 Root vegetables are a delicious addition to any menu, and are especially beneficial during the cooler months when cold and flu season is upon us. As Paul Pitchford says in Healing with Whole Foods: root vegetables "grow in cold climates and contain minerals and other elements that make it possible to survive in harsh weather and under snow. When eating, we take on their qualities and build resistance to cool weather and
disease." (page 62)
Some of the most popular root vegetables include: potatoes, beets, jicama, onions, garlic, carrots, turnips, rutabagas, and parsnips. My personal favorite are sweet potatoes and yams. These versatile and colorful potatoes are a delicious, lower glycemic alternative to the regular white potato and I find the the connection between african yams and twins fascinating. Consider incorporating root vegetables as a french fry alternative or try this amazing side dish that Tiffany and I demo on the Cooking for Fertility DVD:
Cruciferous crunch and roasted roots
½ cup of beets (any color variety), cubed
½ cup sweet potato or yam, cubed
½ cup yellow onion, chopped
1 cup cauliflower, chopped
1 cup broccoli, chopped
2 teaspoon spice Herbamare
3 tablespoons unrefined organic olive oil
1 tablespoon fresh rosemary
Preheat oven to 425 degrees. Peel and chop vegetables into bite-sized pieces. Precook sweet potato/yam and beets for 10 minutes and then add broccoli, cauliflower, onion and spice. Bake for an additional 20 to 30 minutes, remove from heat and drizzle with olive oil and additional spice if desired.
Source: Cooking for Fertility DVD with Kathryn Flynn and Tiffany Pollard