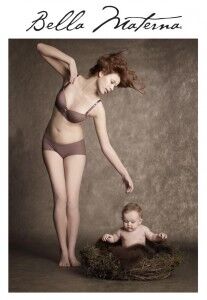 The ladies at Bella Materna graciously took the time to explain how to properly fit a breastfeeding bra. This is what I learned:
Find your band size. This is the measurement around your rib cage-along the underside of your breasts. The band should feel snug and firm. The band should not ride up.
Remember that bras lose elasticity over time, so don't start with a bra that is a bit loose! The more your bra is worn, the looser it will feel. Tighten the hooks as needed.
Expect a 2-cup increase in pre-pregnancy size. So if you were a B before you were pregnant, expect to measure a D when you're breastfeeding.
Did you know that a 36D is the same cup as a 34E and the same cup as a 32F? I didn't either!
If your straps are digging into your shoulders or back, you probably need a larger cup size.
If you want an underwire bra, the underwire should fit around and beneath the breast tissue—never on top of breast tissue. Be sure that your breasts are positioned correctly in the bra each time you put it on.
Breasts should not bulge or spill out of cups. If you're experiencing "spillage," you need a larger cup size.
Of course, nothing beats a personal fitting—especially when you are looking for nursing bras. If you're lucky enough to be in Seattle, plan to visit Bella Materna's beautiful show room for a personal fitting. Otherwise, their expert fitters will be happy to help you find your perfect bra in the perfect size with an email or phone conversation.
Written by Renee Beebe, M.Ed., IBCLC. Renee is a lactation consultant in private practice in Seattle, Washington. She is available for home/hospital visits and phone consultations. Renee can be reached at www.second9months.com