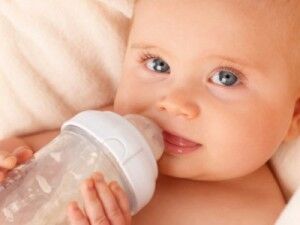 A mother asks, "I am returning back to work soon and my 3 month old baby girl will not take a bottle. What can I do?"
It's really terrific that you have been exclusively breastfeeding your daughter! It can be challenging to transition back to the workplace, so it's great that you are being thoughtful about helping your baby learn about another way to receive your milk. It is normal for a 3 month old baby to initially refuse a bottle. It is a foreign object to her. Remember, she doesn't know what a bottle is! Even if she had been given a bottle every day since she was born, she may still refuse at about 3 months. This is the age when babies can start taking more control of their world!
My best advice to you is to take it slowly, make it fun, be creative, and give her control. Babies are naturally curious and use their mouths to explore. If she sees the bottle as just another play-thing, she will be more accepting. Try other liquids. Make it surprising, novel and interesting. Try water or very diluted apple juice when introducing a bottle. Or use breast milk—but very cold. Some babies will only take a bottle if they are distracted with TV, toys or going for a walk. Try making the bottle very UNlike the breast, and you may be more successful. Some babies never drink from a bottle but do very well with a cup, so be sure to give that a try.
Whichever method you and baby choose, patience will win over force. Good luck!
Written by Renee Beebe, M.Ed., IBCLC. Renee is a lactation consultant in private practice in Seattle, Washington. She is available for home/hospital visits and phone consultations. Renee can be reached at www.second9months.com