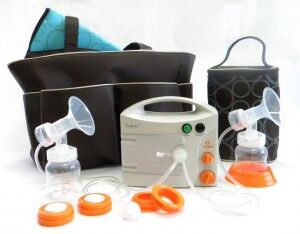 Breastfeeding does not require any special equipment. All you really need is a baby, and your breasts! But for a breastfeeding mother who needs to be away from her baby for work or school, a high quality professional-grade breast pump is essential! It can help maintain milk production, and allow the continuation of breastfeeding, even when mom and baby are separated.
Prior to 2011, breast pumps were considered feeding equipment and, therefore, not eligible for insurance coverage. For that reason, many individuals and organization have been fighting to change that. After much pressure from the American Academy of Pediatrics and various legislators, the IRS changed its classification of breast pumps. As of January, 2011, breast pumps are considered a medical device. It will now be easier for mothers to get insurance coverage for breast pumps.
It's true that professional grade pumps are relatively expensive–$200-4400. Fortunately, with the new classification, your pump is eligible for insurance reimbursement. When you purchase your breast pump from a lactation consultant, she should give you a receipt in the form of a "super bill" that will include appropriate codes so you can seek insurance coverage for your breast pump.
Since your milk is important to the health of your infant, your health care provider will be happy to write a prescription for the purchase of your pump. This may increase the likelihood of insurance reimbursement. If you are denied insurance coverage the first time, consider writing a letter of appeal. Whatever you do, don't give up. Many families have successfully received insurance coverage for breast pumps after being persistent.
If you don't want to seek insurance coverage for your pump, the new IRS ruling also makes it possible to claim it as a medical expense. The cost of your breast pump may be added to your other deductible medical expenses if you itemize deductions on your federal tax return.
To get the most pump for your money, we recommend Hygeia. Hygeia pumps are fairly new on the scene and are a favorite of breastfeeding mothers. They are FDA approved for multiple users and have a 3-year, transferrable warranty. For more information and to shop for more information, visit Renee's store. Please add link when clicking on "hygeia" and "Renee's store".