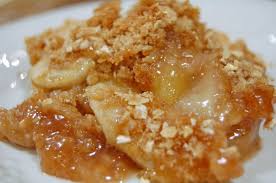 Apple crisp is such a simple and satisfying dessert. For the recipe below, I took my grandmother's recipe and simply made it gluten free. While I often use lower glycemic sugars, there is something very satisfying about this combination of clarified butter, brown sugar and cinnamon over apples. I am a big believer in enjoying your food and indulging in moderation. I hope you enjoy this recipe. If you like your apple crisp served with ice cream, I would recommend trying Luna Larry's Coconut Bliss Vanilla Island for a delicious pairing!
Filling:
8 peeled, sliced apples
1/2 cup of brown sugar
1 tablespoon Gluten free flour
1 teaspoon cinnamon
1/4 teaspoon himalayan sea salt
Topping:
3/4 cups of gluten free oats
1 cup of brown sugar
1/4 cup melted clarified butter
Line the apples in a glass pan. Mix the brown sugar, flour, cinnamon and salt together. Cover the apples with the mixture. For the topping, combine the oats, brown sugar and melted butter and layer it over the apples. Bake at 350 degrees for 1/2 hour or so.