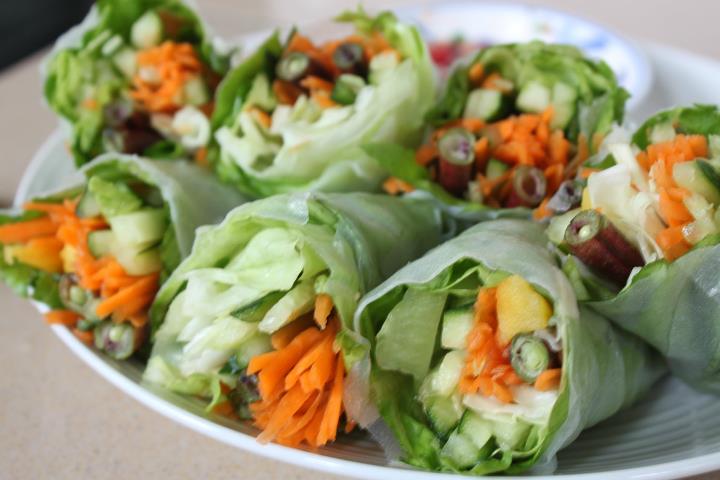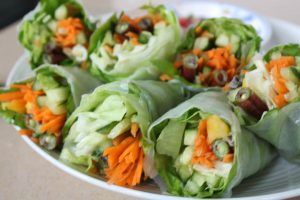 I LOVE making fresh spring rolls! They are so delicious and refreshing, and although they take a little bit in terms of learning the technique.. they are super easy once you get all that down! I mean you can have dinner ready in 10 minutes. The freshness, and green of the veggies helps support liver function which in turn keeps cycles moving smoothly. It is also a good idea to eat more fresh foods and less at one time during these warmer months.
Enjoy and let me know what you think!
Garden Fresh Spring Rolls
Dry weight: 3 to 4 ounce thin, rice noodles, cook as directed (I like Eden brand)
1 tablespoon wheat-free tamari
1 teaspoon toasted sesame oil
½ to ¾ cup of 3 to 4 different veggies sliced julienne style – I like bell pepper,
carrots, diakon radish, mung bean sprouts, and avocado
1 small bunch of fresh basil and or 1 small bunch of cilantro
Thin slices cooked shrimp (optional)
Rice "paper" wrappers (usually made with tapioca)
Mix cooked rice or mung bean noodles with tamari and sesame oil in a medium bowl. Set aside.
Set up an area with a clean surface and place sliced veggies and noodles nearby. Place room temperature water in a large plate or pie dish. Slide rice wrapper into water (make sure it is completely covered) and let sit about 1 minute, or until soft and slightly sticky. Remove rice wrapper and place onto clean surface.
Add the veggies and noodles in the lower third of the wrapper (the part closest to you). I like to start with laying down a few sprigs of cilantro or fresh basil leaves, then layer the rest on top. Leave about 1 inch open space on either side. Roll away from yourself, tucking in at the top and on the sides as you go – just like rolling a burrito! The rice wrapper should stick together just fine.
Now they are ready to eat. Choose your favorite dipping sauce and enjoy!