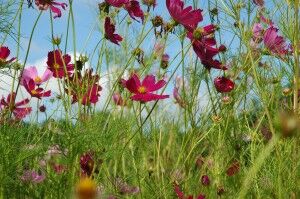 This summer I decided it was time to get a green thumb. So I went to the local nursery and picked out a large pot and some beautiful flowers that the storekeeper assured me would thrive despite my reputation as a former "plant killer". After all, my sister was still reminding me that my bonsai tree would have survived had I taken the time to move it to a larger home, thereby avoiding "root shock" altogether. Ah, the things you learn along the way.
So I brought my new flowers home, full of pride and began to transfer them into their new home, gently massaging their roots. With my attention focused solely on these new plants, elbow deep in potting soil, I began the process of deadheading: removing "spent blossoms" to create space for your flowers to rebloom. Somehow hours passed filling in with extra top soil, watering just the right amount and admiring the intricate placement of delightful colors.
For me gardening has become like cooking: a way to slow down and be mindfully creative. In this busy world, it's important to find ways to unwind, reconnect with your self and your sense of expression. Here's what I learned in my first gardening experience:
Change is something we all experience, most of us with a level of resistance. The same way we gently massage plant roots when relocating to avoid root shock, we can learn to create a level of comfort for ourselves in transitions. Massage is a great way to feel grounded amidst change as the human touch can be quite reassuring.
By clearing clutter you get rid of the old and make room for the new. Just as the flowers rebloom, so do our lives when we weed out the items, places, people and things that are no longer serve our highest good. This may sound harsh, but in it's most simple form consider how you feel when you clear out your closet and send clothes you haven't worn in the last six months to good will. You make room for something new and give a gift to someone in need.
Creative relaxation sets in whenever we lose ourselves in a hobby we love. Seeing the movie Julia & Julie, reminded me just how important it is to love what you do. Pleasure: the process of playing in the dirt, re-arranging colorful flowers and breathing to, as my brilliant yoga teacher said the other day, fill up your internal bank account and add years to your life.
Photo by Lili