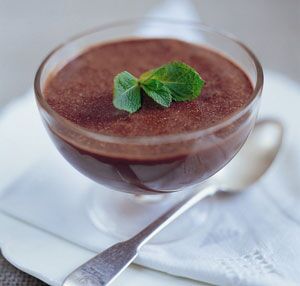 What makes this chocolate mousse most unique is its use of tofu and avocado instead of whip cream and eggs. Experimenting with different ingredients is fun and sometimes surprisingly delicious. You'll probably have to try this one to believe it!
Healthwise, we used a low glycemic sweetener to stabilize blood sugar levels, which is important for women in general, but even more so during conception and pregnancy. Dark chocolate has numerous health benefits including it's arginine content which encourages blood flow to the uterus and ovaries for fertility. Tofu is a healthful alternative to whip cream and eggs and it preserves the creamy texture of this delicious mousse (along with the avocado).
Preparation time: 5 to 10 minutes
Serves 4 to 6
10 ounces dark chocolate, melted
1 package silken tofu (optional: 1/2 an avocado)
2 to 4 tablespoons agave syrup
1/2 teaspoon cinnamon
2 teaspoon vanilla extract
In a blender or food processor, puree tofu and optional avocado, with agave, vanilla and cinnamon until perfectly smooth. Add melted chocolate and mix until fully combined.
Pour mixture in a bowl, and let sit in the fridge for at least 4 hours.
Source: Cooking for Fertility DVD with Tiffany Pollard and Kathryn Flynn