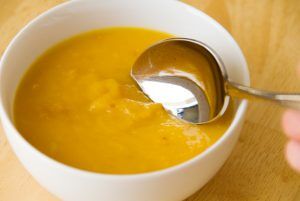 I've been craving soups this fall and have been experimenting with some variations from the recipes in the cookbook. My favorite so far has been the butternut squash apple soup. My whole family loves it, even the littlest one among us. It's nutrient rich, sweet and savory all at the same time. Squash is a beneficial source of Vitamin A. Cooling and replenishing in nature, it helps resolve inflammatory conditions. Apples benefit people with low blood sugar or emotional depression. Seaweed salt alternatives are delicious and contain wonderful minerals to support your very essence and fertility. Like most soups I find this one tastes even better the second day.
You will need:
1 onion (I like yellow)
1 Tablespoons of olive oil
1- 32 ounce container of organic chicken or vegetable stock
2-3 lbs of butternut squash
4 apples (choose sweet varities like gala)
Seaweed salt alternative and pepper to taste
In a large pot, saute onion in 1 Tablespoons of olive oil. Add stock of choice with chopped butternut squash and apples. Bring to a boil. Reduce to simmer until squash and apple are soft. Puree in batches and return to stove to simmer for an additional 30-60 minutes. Serve hot and season with seaweed and pepper to your liking.