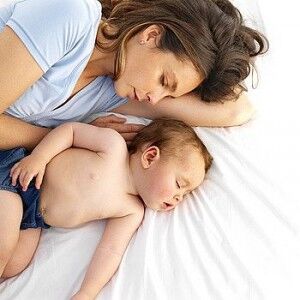 Both my husband and I were surprised to become a cosleeping family when our newborn arrived. We had heard about the "family bed" concept and it's pros and cons from more experienced friends. It happened right from the get go when the nurse handed me my baby along with a handout about safety considerations for cosleeping. In the "olden days" my mother in law told me they'd take the baby to the nursery to give the new mother a good nights rest. Not in our case! As it was, the nurses seemed to know what I would soon learn: there would not be much sleep for anyone but rather a lot of feasting and staring through the night for many nights to come.
More and more research is revealing that cosleeping, when practiced safely, has many benefits including:
Higher Self Esteem and Independance
While one might assume that cosleeping might lead to higher dependencies, studies reveal that children who share sleep with their parents are more confident, less fearful and have less tantrums. Boys who coslept between birth and five years of age, reported "higher self-esteem [and] experienced less guilt and anxiety." Girls in the same age group also had higher self esteem and a 1998 study by Lewis and Janda concluded that "cosleeping appears to promote confidence, self-esteem, and intimacy, possibly by reflecting an attitude of parental acceptance." Dr. Sears notes that the babies in his practice seem to "thrive more": intelectually, physically and emotionally when they share sleep with their parents, possibly due to the extra touch or increased feedings (cosleeping babies appear to breastfeed more often).
Increased Attachment for Mom, Dad and Baby
In many cultures, cosleeping is accepted as the norm and anthropological evidence suggests the custom of sleep sharing has existed through the ages. In fact, according to a 1998 study by Young in Midwifery Digest "cosleeping is the cultural norm for approximately 90% of the world's population." The closeness between the mother and the baby creates a sense of security, bolstered by skin to skin contact during the night. In general the entire family often experiences better sleep since the babies needs are easily, limiting the disturbances from fully waking and crying out for a parent in another room.
Preventing Sudden Infant Death Syndrome (SIDS)
Medical anthropologist, James McKenna has conducted studies on infant cosleeping, where mother and child sleep close enough to each other to "access, respond to or exchange sensory stimuli such as sound, movement, touch, vision, gas, olfactory stimuli, CO2, and/or temperature". McKenna's studies reveal that cosleeping may be protective against SIDS (sudden infant death syndrome) due to the synchronicity of mother and child sleep and arousal patterns causing a protective effect on the infant's respiratory patterns, central nervous system, and cardiovascular systems.
Resources:
Mother-Baby Behavioral Sleep Laboratory
The Natural Child Project