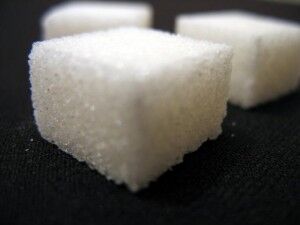 Quick tidbit
: Eating a high sugar snack or meal decrease your immune system tremendously for about 2 hours. High sugar also means simple carbohydrates. It does not mean complex carbohydrates – such as fiber.
Why does this happen: Good question.
It was only in the 1970's that researchers found out that vitamin C was needed by white blood cells so that they could kill (phagocytize) viruses and bacteria. White blood cells require a 50 times higher concentration inside the cell as outside so they have to accumulate vitamin C.
It was in the 1970's that Linus Pauling realized that white blood cells need a high dose of vitamin C and that is when he came up with his theory that you need high doses of vitamin C to combat the common cold.
We know that sugar and vitamin C have similar chemical structures, so what happens when the sugar levels go up? They compete for one another upon entering the cells. And the thing that mediates the entry of glucose into the cells is the same thing that mediates the entry of vitamin C into the cells. If there is more sugar around, there is going to be less vitamin C allowed into the cell. So when you eat sugar, think of your immune system slowing down to a crawl.
Here is a list of ways sugar can affect your health:
Sugar can suppress the immune system.
Sugar can upset the body's mineral balance.
Sugar can contribute to hyperactivity, anxiety, depression, concentration difficulties, and crankiness in children.
Sugar contributes to a weakened defense against bacterial infection.
Sugar can cause kidney damage.
Sugar can increase the risk of coronary heart disease.
Sugar can promote tooth decay.
Sugar can produce an acidic stomach.
Sugar can speed the aging process, causing wrinkles and grey hair.
Sugar can increase total cholesterol.
Sugar can contribute to weight gain and obesity.
Sugar can contribute to diabetes.
Sugar can contribute to osteoporosis.
Sugar causes food allergies.
Sugar can cause toxemia during pregnancy.
Sugar can contribute to eczema in children.
Sugar can cause depression.
Sugar can cause hormonal imbalance.
Sugar can cause hypertension.
Sugar can cause headaches, including migraines.
Sugar increases bacterial fermentation in the colon.
Bottom Line:
It's Fall. It's windy. It's getting cold.
Limit sugar. Stay healthy.
Source: www.nancyappleton.com