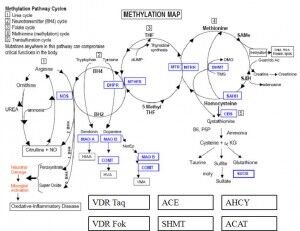 Recently, a number of nutrition clients have been reporting that they have the MTHFR gene. MTHFR (methylenetetrahydrofoloate reductase) is an enzyme/ protein that is used to activate folic acid, a crucial B vitamin for pregnancy. In certain cases, the MTHFR gene does not activate the folic acid to its full capacity: heterozygous MTHFR carriers activate folate at 60-70%; homozygous carriers only activate folate at 10%. When testing for MTHFR, doctors use a blood test to look for two genes: MTHFR C677T and MTHFR A1298C. It is a fact that MTHFR is quite common (present in as much as 30% of the population) and by simply adding additional methylfolate a number of medical conditions including infertility and pregnancy can be supported. Additional folic acid in cases of MTHFR can help:
reduce miscarriage frequency
avoid neural tube defects
treat depression and anxiety
heal ADD and autism
reduce dementia
support uric acid metabolism and resolve gout
facilitate detoxification
lower homocysteine levels
encourage DNA repair which decreases cancer risk
Folic acid consumption is particularly important in fertility and pregnancy to maintain a healthy pregnancy and prevent birth defects. If a blood test reveals that you have MTHFR, your doctor may suggest taking a higher dose of folic acid in a methylated form that helps bypass the enzyme. It's important to include the other B vitamins (B6 and B12) in your regimen as well as eating a diet rich in folate.
Folate rich foods include: beans and lentils, peas (black-eyed peas, chickpeas, green peas), juices (orange, tomato, grapefruit, pineapple), fruits (oranges, cantaloupe, honeydew melon, avocado, papaya, raspberries), soymilk, vegetables (green leafy vegetables such as spinach, lettuce, turnip greens, mustard greens, collard greens, and Chinese cabbage; broccoli; Brussels sprouts; asparagus; artichokes; okra; corn; cauliflower; potato; beets; green onions; sweet red peppers), nuts and sunflower seeds. If you are folic acid deficient, avoid green tea which can limit the absorption of folate.
Source: