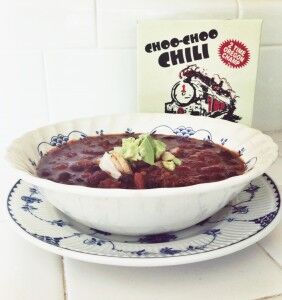 One of the most common struggles for people looking to start a fertility diet is that they feel like they don't have enough time to cook. Somehow when you decide to go organic, people feel pressured to be perfect. One client who ate out every single meal thought starting a fertility diet meant cooking everything from scratch. Impossible in this case! They key to succeeding with big dietary changes is to make it doable and livable within the parameters of your lifestyle.
Enter this variation on the chili recipe I included in my Cooking for Fertility cookbook which includes soaking beans and many many spices. A few years ago, my sister in law in introduced me to Choo-Choo Chili at our local Harry and Davids store. The perfect seasoning for an easy chili meal, separated into two sections depending on your tolerance for spicy (which for me is practically zero). And it is not the end of the world to use organic beans from the can and organic stock from the carton. Here's how easy this recipe is to make:
1 pound of grass fed organic beef, browned in the frying pan
3 cans of organic beans- my preference is kidney and black bean
15 ounces of organic chicken or beef stock
15 ounces of tomato sauce
Allow to simmer in a large pot or place all in the slow cooker on low for 5 hours.
Toppings:
Minced onion
Avocado
Goat yogurt
Cheese