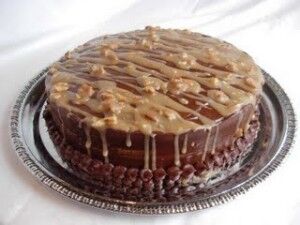 This summer I was lucky enough to experience the amazing catering of Caspar Poyck of Consciuosly Culinary, while instructing at a Fertile Soul retreat. As a girl diagnosed with gluten intolerance, you can imagine how delighted I was to taste this flourless cake which is nothing short of delighting to every sense. In fact, I even asked my husband to re-create it for my birthday and although we ended up with a gluten free just add water version (it's the thought that counts), we will certainly make this cake for many celebrations. If you have issues with blood sugar imbalance, you might try making this cake with a sugar alternative like xylitol (and let us know how it goes). If not, indulge just like Caspar recommends and be sure to enjoy every single bite.
10" Non-stick spring-form pan
1.5 cup Bob's Red Mill almond meal
1/3 cup Organic evaporated cane juice
3 Organic, free-range eggs
20-25 Anise seeds
1.5cups Organic heavy whipping cream
10oz. Semi-sweet organic chocolate drops
a pinch of cayenne pepper and salt
vanilla extract
*Heat oven to 350F
*Mix meal, sugar, salt and anise seeds in a bowl.
*Separate the yolk and the white of one egg. Add the white to your bowl and keep the yolk for later. Knead your mixture until you can form a ball.
*Butter your spring-form pan and evenly spread your almond dough. Poke holes in the dough with a fork to let the hot air escape. Put in the oven (for about 10 minutes)
In the meantime:
*Heat whipping cream in a small sauce pan and avoid skin-forming
*Put chocolate drops in a bowl, add a pinch of cayenne and a cap full of vanilla-extract
*Pour the hot cream over the drops and mix until smooth (with a spoon)
*Once your mixture is done, add two eggs and the egg-yolk to it and mix again.
*Take crust from the oven and gently pour mixture over top of it.
*Bake for 25-30 minutes, checking in periodically by gently "jiggling" the pan.
When the center part starts to become firm, take the tart out of the oven, let cool and refrigerate for at least 2 hours. Once tart is set, decorate by drizzling thin lines of cream over the top and adding a strawberry, raspberry, walnut or any fruit of your choice.
ENJOY !!
EatWell, LiveWell, LoveWell,
Culinary Consciousness Coach Caspar Poyck C.Ht.
www.consiouslyculinary.com