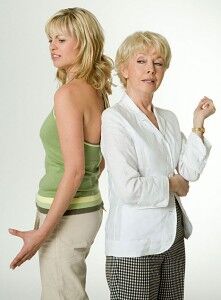 The Mother-in-law, The Neighbor, The Stranger you meet in the grocery store. Yes– the one who has ten kids and raised them all perfectly? The one who has all the best advice on how to raise your child? Not the one who is just excited about what's going on in your life, but the one you feel may be a detractor. How do you handle the over-bearing and ill-intentioned criticism that comes from someone who constantly puts themselves as your superior—on matters that aren't even theirs to comment? We want your tricks and tips. And here are a few of ours:
1) Ask Yourself: "Is there some shred of truth to this advice?" If not, DISMISS the advice and don't waste time thinking about it. Don't let something (or someone) live rent free in your soul.
2) Don't offer this person a chance to give advice—don't open the door by asking them what they think about any parenting/pregnancy topic. Once you ask, they may consider themselves to be your superior and may consider it their right to give you all that well-needed advice.
3) Offer the offender suggestions on how they can help you. This could be as simple as giving them a task that really would help you out, or saying something like "I appreciate you giving me space in this matter" Or "Trust that I will do what I think is best for me and my baby…" (Again, keep the door closed. No permissions need be obtained, and no apologies are needed as you rightfully stake out your boundaries—as long as you don't lose your cool. (So don't lose your cool)
4) Create space between you and the offender. You don't need permission to step away from the under-toe of a critical tongue—If the offender continues to give unwanted advice, remove yourself as much as is needed. This may be a time to illicit a spouse's help.
5) Remember life is too short to feel obligated. Do what is best for you and your family.
6) But also remember to keep your cool. The person who stays in control of their tongue is the person who has the most control in the relationship (and the clearest conscience).